All orders processed and assembled by Edinburgh Beer Box.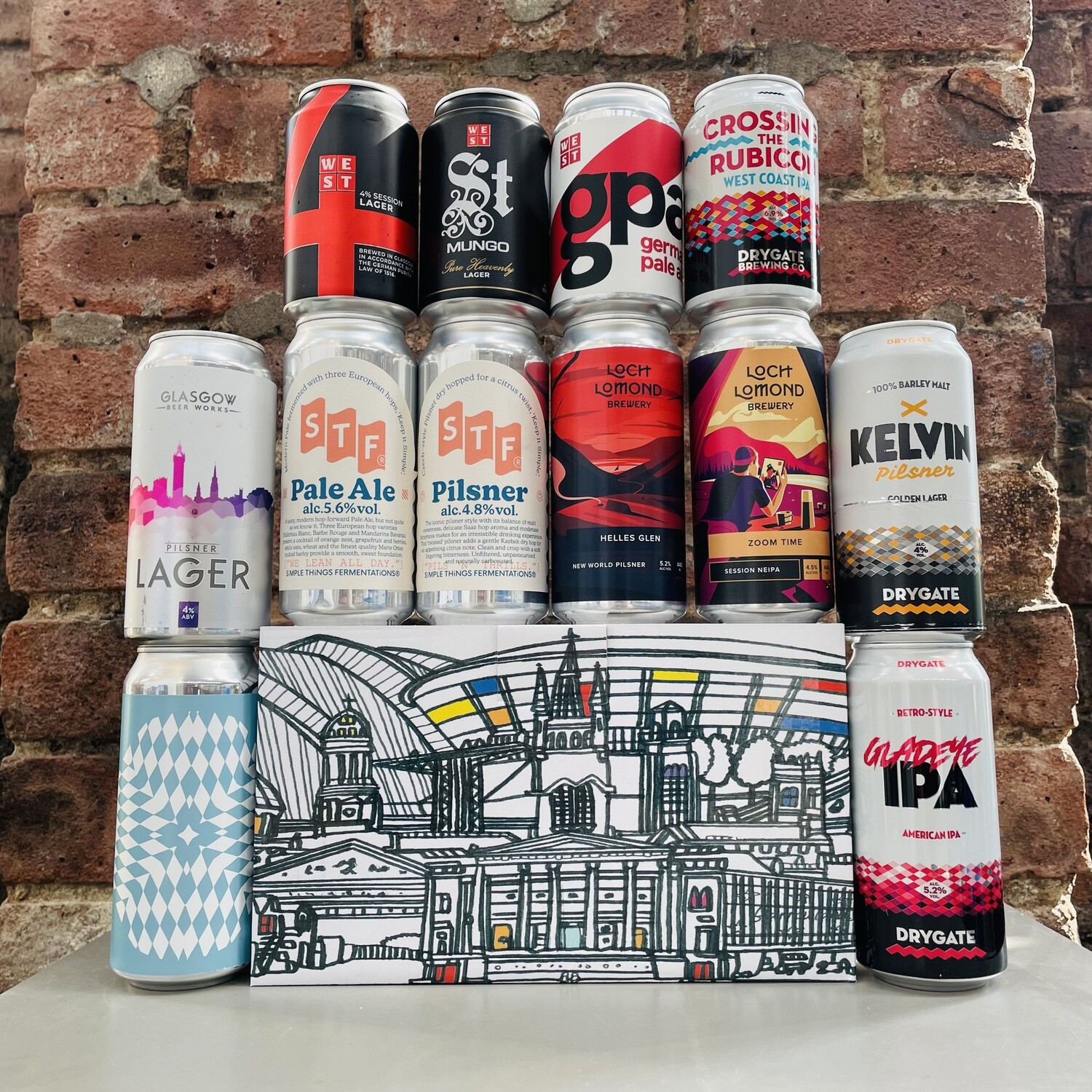 Glasgow Signature Case x 12
00098
Product Details
GLASGOW MIXED BEER BOX.
From eight of Glasgow's craft breweries comes a mixed case of signature brews. Your box includes both beers from the established craft breweries such as Drygate and West to the smaller specialist brewers such as Hidden Lane, Overtone and Up Front.
Your purchase will immediately trigger £1 to be transferred to The Beaston Cancer Charity.
Beers are housed in a bespoke box designed by The Glasgow illustrator Adrian McMurchie and are couriered UK wide on an overnight service.
Whether to enjoy with friends, or to gift to another, we hope you enjoy the best modern craft beers Glasgow has to offer.

The current beer line up is...
DRYGATE:
Bearface Lager: Scottish Pilsner 4.4% / 440ml
Disco Forklift: Mongo Pale Ale 5.1% / 330ml
WEST
St Mungo's Lager: Premium Helles Lager 4.9% / 330ml
GPA: German Pale Ale 5.2% / 330ml
LOCH LOMOND
Silkie Stout: Coffee, chocolate stout 5% / 440ml
Zoom Time: Session New England IPA 4.5% / 440ml
GLASGOW BEER WORKS
West Coast IPA 4.5% / 330ml
Lager: German pils 4% / 440ml
OVERTONE
Pale Ale
SIMPLE THINGS FERMENTATIONS
Pilsner
Pale Ale
HIDDEN LANE
Lager: A well bodied lager 4% / 330ml
NB if you wish to include a gift note along with your beers please type your message in the space on this page.

Save this product for later