All orders processed and assembled by Edinburgh Beer Box.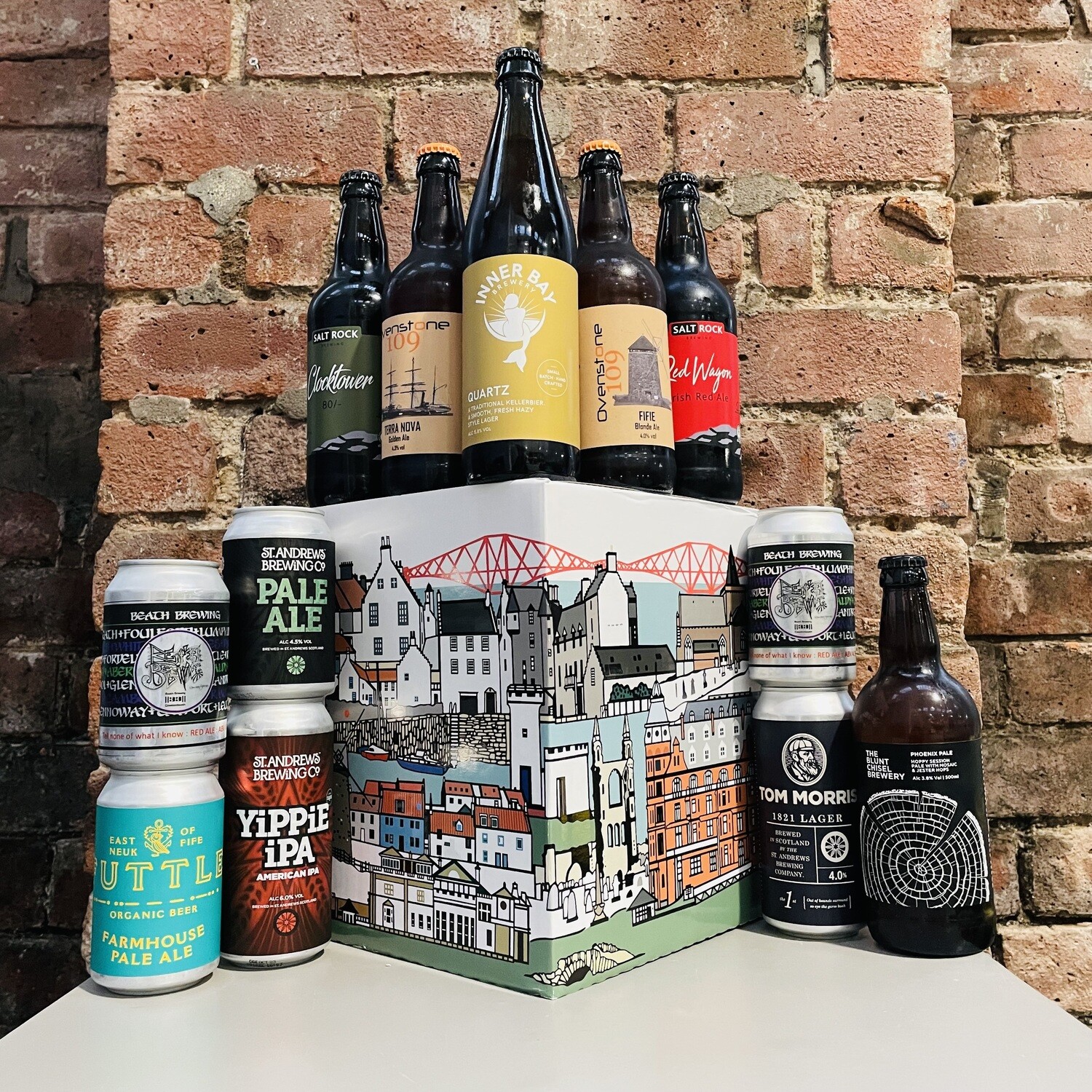 FIFE CRAFT BEER GIFT BOX
00015
Product Details
The Fife Beer Box is a curated selection of twelve bottles and cans from all Fife's Craft Breweries. We've selected the best brews from each of Fife's craft breweries - full details of the beer line up is below.
The stunning box was designed by celebrated illustrator Susie Wright. Her image includes a number Fife's famous landmarks.
If you're sending the Fife Beer Box as a gift you can insert a message that travels with the beers. Use the area to the top right of this page to type your message before adding the item to your cart.
NB a £ receipt (and your / the buyers details) do not travel with the beers, a receipt is emailed to the buyer when you order, so if gifting to another we suggest you include details of who is sending the beers within your gift note.
We make a £1 per box donation to Maggie's Cancer Center in Kirkcaldy.
Your Fife Beer Box is shipped overnight to anywhere in mainland UK.
Current beer line up is as follows:
St Andrews Brewing Co (Tom Morris Lager 440ml, Yippie IPA 330ml, Pale Ale 330ml). Inner Bay, based in North Queensferry (Quatrz Kellerbier 500ml). Futte, based in Anstruther (Farmhouse Pale 330ml). SaltRock are just outside Dunfermline (1070 Blonde, Red Wagon Irish Red 500ml). Ovenstone 109 are in the East Neuk (Terra Nova Gold, Fifie Blonde 500ml). Blunt Chisel are in Blair Adam (Phoenix Pale 500ml). Beath from Cowdenbeath, there are two cans of their Pale Ale 330ml.

Enjoy!
Save this product for later